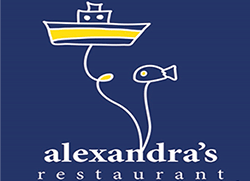 ALEXANDRA'S RESTAURANT
Alexandra's restaurant is a family run restaurant located in the middle of Megisti's harbour, right by the sea. Michalis is the owner of the restaurant, and Despoina, his mother, the cooker. They always use fresh seafood that is locally caught, fresh herbs and vegetables from the garden, fresh oregano and thyme which can be found on the island's mountain. The olive oil that is used in the dishes comes from the family's olive trees in the island of Rhodes. For an unforgettable experience, the huge variety of; traditional homecooked greek cuisine, seafood dishes and mezzes makes you visit Alexandra's Restaurant and Megisti.
APPETIZERS
Here you can see the photos taken during the events that reflect the spirit of the festival:
Appetizers specially prepared by Alexandra's Restaurant cuisine within the framework of the festival: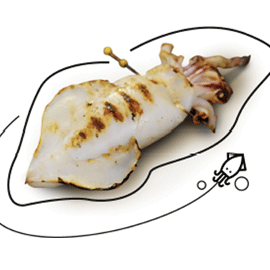 Stuffed Squid
Ingredients:
500 g Fresh Squid / 100g White Cheese / Hali ofa Red Pepper, Chopped Small Hali ofa Green Pepper, Chopped Small / 3 Pıeces Thinly Slıced Drıed Tomatoes 1 Teaspoon of Ground Pepper Wıth Medıum Hotness / 1 Teaspoon of Thyme / 1 Toothpick / 1 Tablespoon of Olive Oil 
Directions:
Pull aut the shells of squıds Cut the heads and tentacles and keep then for later use Mıx whıte cheese, chopped red and green peppers, dried ıomaıoes, ground pepper, oregano (thyme) and olıve oıl ın a bowl
Fıll the squıd wıth thıs mıxture and make sure that !here ıs no opening on the squid.


Close the end of squid with a tooth pıck by leavıng a 2 cm space at the top, and make sure that the mixture ınsıde does not flow aut durıng fryıng. Fry the squid, and the head and tentacles whıch are already separated, on medıum heat far 10-15 mınutes untıl golden color after taking the squid on plate, cut it into thick slices, and serve it by pouring olıve oıl, lemon Juıce and parsley over it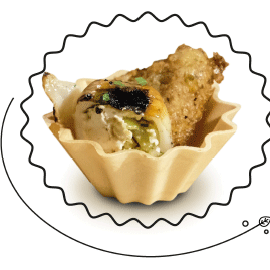 Chickpea Ball
Ingredients:
100 g Chickpea, Soaked in Water for Overnight / 1 Onion / Salt / Pepper / Finely Chopped Fresh Mint / Half Cup of Water / 100 g Self- Fermented Flour / 500 ml Sunflower Seed Oil / Thyme
Directions:
Mix ali ıngredıents, except the flour, in a large bowl. Make sure that the mixture does not become sloppy sa that the chıckpeas do not soften to much. Put sunflower seed oil ın the frying pan. Make sure that the mıxture ıs thıck enough so that it does not scatter in hot oil.
If nuccessary you can use the self-fermented flour durıng frying. Use a spoon to put the mıxture ın hat oıl, and fry both sıdes until golden color. Serve it hot or colds as you lite.