TAVERN ALEXIS' FRESH FISH SEA FOOD
Presenting seafood of the highest quality with the organic vegetables, grown on his own garden, to their guests' tastes for 52 years, Alexis offers the gastronomic tastes of both Greek and Mediterranean cuisines. The restaurant, which can be visited throughout the year, invites you to experience the delicious tastes.
APPETIZERS
You can see the photos taken during the events reflecting the spirit of the Mezeler festival here:
Appetizers specially prepared by Alexis' kitchen within the framework of the festival: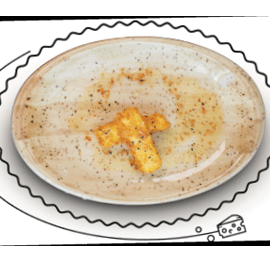 Feta Sticks
Ingredients:
200 g Feta Cheese ( White Cheese ) / 2 Eggs / Multi-Purpose Flour / Bread Crumbs / Sesame and Black Cumin / Grape Seed Oil to Fry / Thyme Honey Sumac 
Directions:
Slice feta cheese into sticks. Whisk the eggs in a bowl. Put the flour and bread crumbs in two separate bowls. Dip the Feta sticks firstly in the flour and then in the whisked eggs and bread crumbs. Fry the sticks in grape seed oil, which is preheated to 158 degrees, until golden and crispy.
Use paper towel to absorb excess oil of the fried sticks. For presentation, pour thyme honey on the plate, and then put the crispy feta sticks on the plate and pour some thyme honey again. Use sesame, black cumin and sumac for decorating.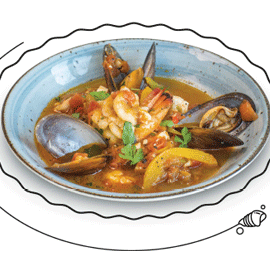 Shrimp & Mussel Saganaki
Ingredients:
Feta Cheese / Whole Shrimp / Cleaned Fresh Mussels / White Onion / Fresh Parsley / Pepper Seed / Garlic / Fresh Tomato / Natural Extra Virgin Olive Oil / Sauvignion Blanc White Wine / Aniseed Ouzo / Green Bell Pepper / Black Cumin and Sesame / Sumac / Salt / Smoke Groud Paprika 
Directions: 
Chop the onion and the hot red pepper, and crush the garlic. Julienne the green bell peppers. Slice the feta cheese into cubes. Chop the parsley finely, and cut the stems. Boil the tomatoes for a short while, and then cut them into cubes.
Clean the mussels. Clean the shrimp without removing the head and tail. Roast the onion, garlic and peppers in small amount of olive oil. Increase the heat of the stove and add the shrimps. Remove the heads of the shrimps, and add the tomatoes. Crush the tomatoes during cooking.
Ouzo is used for flambe. After cooking for further 6 minutes, add the mussels and Sauvignon blanc white wine. Cook the mussels until the open. Add the Feta Cheese (white cheese) and parsley, and cook for further 1 minute. Pour some olive oil and ground black pepper over it. Take the shrimps on the plate, and cover them with saganaki sauce and mussels and then sprinkle chopped parsley, smoked pepper and sumac. Finally, serve it by pouring extra-virgin olive oil.