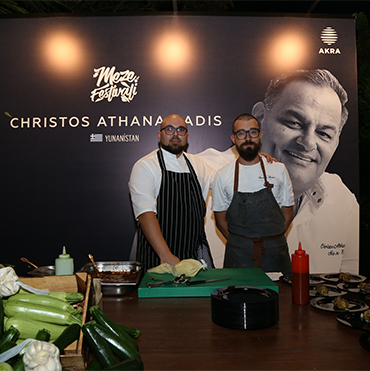 Christos Athanasiadis
Christos Athanasiadis, the chef whose name is praised, is a member of the pioneer group of the field-to-plate approach and makes food one of the biggest components of all kinds of projects. Having gained great experience abroad and in the best 5-star establishments of Greece, Dec chef is one of the pioneers of modern Greek cuisine and one of the most respected chefs among his friends, as well as many awards he has won.
THE WORLD'S BEST-LOVED MEZES AT THE 2ND INTERNATIONAL MEZE FESTIVAL
Antalya Hosts World Renowned Chefs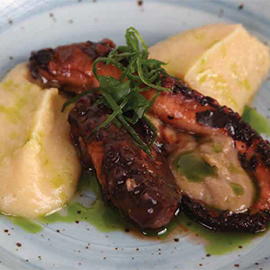 Octopus in Casserole Fava Onion Puree Rosemary Oil
Ingredients:
1 octopus / 1 kg broad beans / 1 onion / 5 cloves of garlic / 50 ml rosemary oil / 100 ml lemon juice / 10 g black pepper / 10 g fresh thyme / 20 g salt / 20 g sugar / 1 pinch of dill
Directions:
Boil the octopus. Soak the broad beans. Put onion, salt and sugar in the pot with broad beans. Add water enough to cover the broad beans. Cook until soft. Mash them with a hand blender. Add finely chopped dill, and let it cool. Cut the boiled octopuses into pieces of 5 cm. Blend with rosemary oil, lemon juice, fresh thyme, beaten garlic and salt. Take the fava in a serving plate and serve it by topping it with this mixture.