FIRUZE
Firuze Beyoglu is a Turkish restaurant focused on the delicious tastes of the tavern cuisine-based geography. Serving with 2 types of menus namely a la Carte and Fix, Firuze Beyoglu's outstanding tastes include Crete Pâté and mutabbal. Pickled fish and seabass ceviche are the special foods of the restaurant. Offering a menu blending the tastes from the Anatolian, Mediterranean and Aegean cuisines, Firuze serves fried liver, falafel and shrimps with butter as hors d'oeuvres.
APPETIZERS
Here you can see the photos taken during the events that reflect the spirit of the festival:
Appetizers specially prepared by Firuze cuisine within the framework of the festival: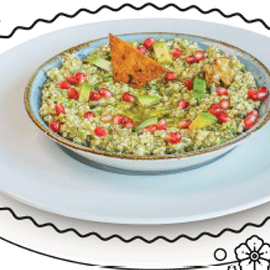 CretanPaste with Avocado
Ingredients:
Low-Salt Sheep Cheese (168 g) / Avocado (25 g) / Garlic (5 g) / Fresh Basil (4 g) / Olive Dil (0.64 l) / Sweet Paprika (1 g) / Dried Thyme (1 g) Antep Pistachio Nuts (File) (25 g) / Antep Pistachio Nuts (Boz) (25 g) / Crushed Walnuts (Kelebek) (40 g) 
Directions:
Grate the sheep cheese by using the side of the grater with larger holes. Add grounded Antep pistachio, thyme and paprika on the cheese. Then, put olive oil, basil, and garlic and peeled and seeded avocado in a blender and make a pure. Add the walnut, and blend it again. Then, add the grated cheese and mix it.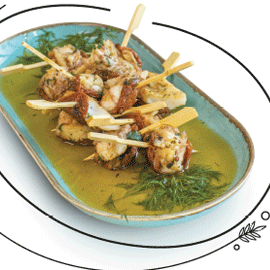 Stujfed Dried Tomatoes with Sea Bass
Ingredients:
Ground Black Pepper (1 g) / Red Paprika (1 g) / Curry Powder (1 g) / Olive Dil (20 g) / Butter (10 g) / Dili (5 g) / Garlic (2 g) / Green Dnion (5 g) / Soy Sauce (1 g) / Oried Tomato (80 g) / Sea Bass Fille! (250 g) / Vegetable Seasoning Mix (1 g) / 8 Toothpicks 
Directions:
Mix olive oil, soy sauce, ground black pepper, curry, garlic and vegetable seasoning mix in a large well. Add the fish fillets in the sauce mixed. Heaı a pan that is suitable lor frying the fish, and melt the butter in the pan. Add chopped green onions and sweet paprika while frying the fish. After cooling down, stick the fish in the dried ıomaıo by a ıoothpick.