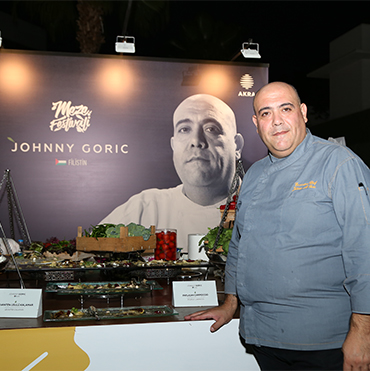 Johnny Goric
Johnny Goric started his training in Lyon at the age of 16 and began introducing Palestinian cuisine at international events while in his 20s. He won the Villeroy & Boch 2010 Culinary World Cup, together with a team of chefs from different ethnic backgrounds in 2010. He belongs to the Chefs for Peace organization, which counts many Israeli and Palestinian chefs among its membership. Chief Goric continues to work as the Executive Chef for the Legacy Hotel Group. His work has been instrumental in the global recognition of Middle Eastern cuisine.
THE WORLD'S BEST-LOVED MEZES AT THE 2ND INTERNATIONAL MEZE FESTIVAL
Antalya Hosts World Renowned Chefs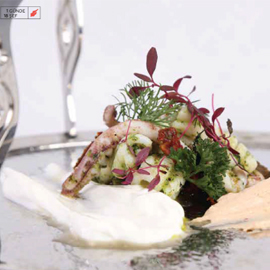 Sautéed Calamari with Levantine Spices
Ingredients:
1 kg squid / Parsley / Dill / Mint / 100 g fresh garlic / 300 g dried tomatoes / 100 g butter / 300 ml olive oil / 50 g sumac / 30 g red pepper flakes / 30 g salt / 500 g labneh cheese / Micro sprouts for decoration
Directions:
Clean and chop the squid. Sauté the squid with olive oil and butter. Firstly, add the spices, and then the sun-dried tomatoes. After sautéeing for a while, add the fresh spices just before it is about to be cooked. Put the labneh on the plate. Top it with the squid, some olive oil and micro-sprouts. Serve it with garlic bread.