KISS THE FROG
Kiss The Frog, the first sea food brasserie of Turkey with its atmosphere and venue besides its creative name inspired from the fairy tales, is the secret social venue of the Bosporus. You can find various delicious tastes from its special salad made from avocado, strawberry and purslane to shrimps with orzo, and from inky spaghetti to octopus in tandori on its menu prepared with creative interpretations of seafood.
APPETIZERS
Here you can see the photos taken during the events that reflect the spirit of the festival:
Appetizers specially prepared by Frog cuisine within the framework of the festival: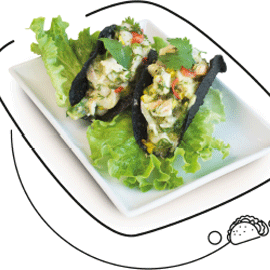 Taca Nero & Ceviche
Ingredients:
250 g
Sea Bass Fillet ( Sliced into Thin Leaves and Rested in Juice of 1 Lemon) / 200 g Freshly Peeled and Slightly Boiled Medium-Sized Shrimp / Maldon Salt 1 Pinch of Fresh Coriander / Grilled Corn Seeds ( of 1/2 Corn) / 4 Tablespoons of Olive Oil / 1 Tablespoon of Rice Vinegar / 1 Tablespoon of Grape Vinegar / 1 Garlic Clove / Fresh Ginger (20g Grated) / 1 Teaspoon of Finely Chopped Red Chili Pepper / Kiss The Frog Pickled Cucumbers
Directions:
Mix all ingredients, and serve it in tacos. You can use coriander leaves and corn kernels for decorating.
Kiss The Frog Pickled Cucumber:
3 Cucumbers With The Seeds Taken Out and Sliced Finely by Peeler / 2 Cloves / 20 g Fresh Ginger / 1 Pinch of Fennel Seed / 2 Teaspoons of Sweet Chili Sauce, 30 g Cider Vinegar / 500 g Water
Boil all ingredients. After the mixture cools down, add the cucumbers.
Taco:
100 g Corn Flour / 100 g White Flour / 20 g Cuttle Fish / Salt / 1 Teaspoon of Dry Yeast / 1 Dessert Spoon of Olive Oil / 1 Dessert Spoon of Grape Vinegar
Mix all ingredients, Cover and rest it for 1 hour. Use a rolling pin to roll out hand-sized pieces. Fold them into a taco shape, and then fry them by paying attention not to break the tacos.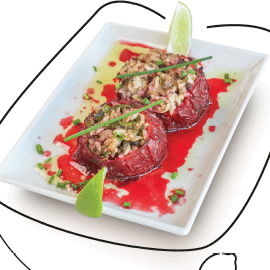 Stuffed Red Plum
Ingredients:
4 Big and Firm, Scraped Red Plums / 100 g Rice / 2 Medium-Sized Onions / 1 Tablespoon of Pine Nut / 1 Tablespoon of Currant / l Tablespoon of Dried Mini / l Oessert Spoon of Cinnamon / 1 Oessert Spoon of Allspice / 1 Teaspoon of Salt / l Teaspoon of Black Pepper / 1 Teaspoon of Olive Dil 
Directions:
Roast all ingredients until the rice is translucent. After cooling down, add and mix 1/2 bunch of finely chopped parsley, 1/2 bunch of finely chopped mint, 1/2 bunch of finely chopped dill.
Stuff the red plums with this mixture. Take the stuffed red plums on a baking pan, and put lemon slices on them. After addition of 1 tea glass of water and 1 tea glass of olive oil, cover the baking pan with a moist paper.
Finally, cover it with aluminum foil, and bake for 180 minutes at 180 degrees in oven. It is ready to eat at room temperature. Enjoy.