Marouane Bouhmidi
Discovering at a young age his love of cooking, Marouane Bouhmidi conducted his culinary training at Mohammedia MOROCCO. He was selected from among thousands of chefs to represent Morocco on Arab World Top Chef, finishing in 4th place. He was also the sole representative from Morocco in the Bocuse d'Or competition. He has served in Morocco in the hotel and restaurant sector alongside other renowned Michelin star-awarded chefs. At present he is the Chef of the Royal Tulip City Center Tangier.
THE WORLD'S BEST-LOVED MEZES AT THE 2ND INTERNATIONAL MEZE FESTIVAL
Antalya Hosts World Renowned Chefs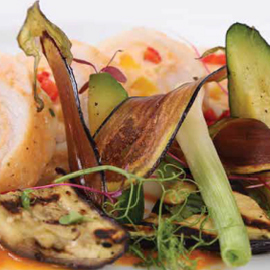 Samke Harrra with Vegetables
Ingredients:
10 Eggplants / 5 baby eggplants / 500 g labneh  / 3 boiled beets / Vegetable sprouts / 200 g tahini / 10 g salt / 10 g black pepper / 5 cloves of garlic / 100 ml olive oil / 50 ml lemon juice
Directions:
Roast and peel off the eggplants. Put the eggplant peels in the oven on a tray. Dry for 2 hours at 100 degrees. Cut the baby eggplants into thin slices and lay them on a tray and dry them in the oven for 2 hours at 100 degrees. Take the labneh in the blender. Add tahini, lemon juice, salt, pepper and dried eggplant peels and run the blender at high speed until a creamy consistency is reached. Then take it in a bowl and let it rest in the fridge. Take the roasted and peeled eggplant on a serving plate. Shape it by pressing on the top. Squeeze the sauce, which is let to rest in the fridge, on top so as to cover it. Garnish it with thinly sliced and dried baby eggplants, boiled eggplant and vegetable sprouts. Season with olive oil and lemon juice.