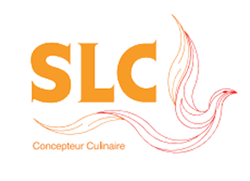 SLC
Laurent Capdeville is a chef conceptor, works with Joel Robuchon during 20 years for the kitchens conceptions. During 22 years, he was the chef of the chefs in the VIP restaurant Bocuse d'OR in France. He made the concept of the competition boxes for Bocuse d'Or also. Works with the most famous chefs in france (Christian Willer, Paul Bocuse, Gilles Goujon, Edouard Loubet, Gerald Passedat, Frédéric Anton ....) but also with unknown chef but always with passion and sharing. Now he is a chef consultant for kitchens design and culinary conception.
APPETIZERS
Here you can see the photos taken during the events that reflect the spirit of the festival:
Appetizers specially prepared by SLC cuisine within the framework of the festival: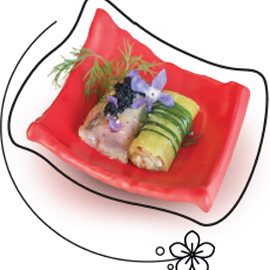 Stuffed Leeks with Marinated Bonito and Vinaigrette Sauce
Ingrediens:
200 g Bonito Fillet / 4 Leeks (about 2.5 cm in diameter) / 1 Red Hot Pepper /1 Bunch of Coriander / 1 Bunch of Chives / 1 Bunch of Dill / 1 Ginger Grain / 25 g Avruga Caviar / 4 Edible, Purple Colored Borage Flowers / 20 cl. Olive Oil / 5 cl. Wine Vinegar / 1 Lemon / Salt-black pepper-red pepper
Directions:
Cut the bonito fillet into pieces of 4cm (10g). Marinate the pieces of bonito with salt, black pepper, lemon, chopped coriander and olive oil. Cover it with stretch wrap, and let it rest in the refrigerator for one hour. Cut the leeks into 5 pieces of 4 cm. Cook these in boiling water, and then, take them in iced water. Boil the chive, and plunge it in iced water.
Hold two outer layers of the leek and scrape it. Chop finely the leek hearts, jalapeno and fish remains into brunoise.
Add grated ginger, dried red pepper and chopped dill. Fill the leeks with this mixture and leave them in vertical position. Wrap the leek with chive, and let it cool. Prepare a sauce with remaining olive oil and vinegar.
Put 5 leeks and 5 bonitos on the slate or the plate in a gradual order. Put some (5kg) Avruga on the bonito. Use borage flower and dill stem for decorating. Pour vinegar sauce on the leeks.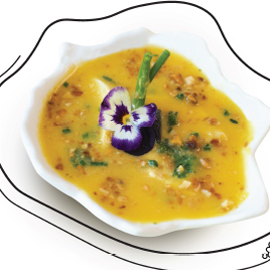 Fried Goos Liver with Pumpkin Puree
Ingrediens:
4 Pieces of Small, Raw Goose Liver (Foie Gras) Medallions / 400 g Pumpkin / 1 Bunch of Chives / 1 Bunch of Green Onion / 1 White Onion / 0,5 l Milk / Sliced Bacon Or Smoked Meat / 0,3 l Olive Oil /100 g Roasted Raw Hazelnut / 10 cl. Whisky / Salt-black pepper-red pepper
Directions:
Peel the skin of pumpkin, and cut it into small pieces. Cook the onion in olive oil. Add the pieces of pumpkin, and stir it gently by addition of whisky. Add milk, and cover it with water. Season it with salt, black pepper and red pepper. After cooking, take one quarter of the liquid to keep it for later use, and purée the remaining mixture by a mixer.
Keep it warm. Adjust the thickness of the soup by the liquid set aside. Roast the hazelnuts in oven, and ground them finely. Chop finely the chives, and cut the green onion into thin circles. Put the goose liver (foie gras) on a very hot and dry pan, and cook each side for 15 seconds by flipping it 4 times.
Pour the soup/puree in a glass in a large bowl ar in a small deep dish Put the goose liver (foıe gras) on the middle Use green onion and chives lor decorating it is ready ta serve after putting crushed hazelnut and 2 chives in vertical position.