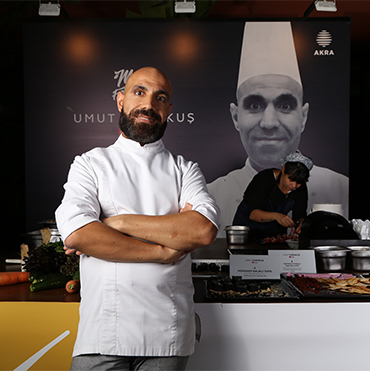 Umut Karakuş
Umut Karakuş developed his love for pastry at his father's kneading table and subsequently graduated from Le Cordon Bleu Pastry Department He started his career in 2006, working with some of Turkey's finest chefs in Anatolian cuisine. In 2012, Karakuş founded the country's first modern tavern. He has spent the last six years in an extensive exploration of mezes and spices, establishing Turkey's first spice library of Turkey. He continues this work, with the mission of creating a comprehensive inventory of the country's spices.
THE WORLD'S BEST-LOVED MEZES AT THE 2ND INTERNATIONAL MEZE FESTIVAL
Antalya Hosts World Renowned Chefs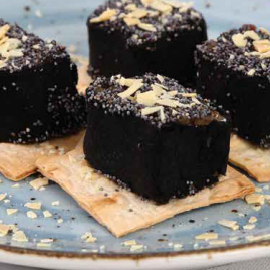 Topik with Cuttlefish
Ingredients:
500 g potatoes / 1 kg chickpeas / 20 g cuttlefish / 500 g onions / 200 g tahini / 50 g cinnamon / 10 g salt / 50 g sugar / 30 g peanuts / 100 g olive oil
Directions:
Boil the chickpeas and potatoes. Finely chop and boil the onions. Take the chickpeas, potatoes, half of the tahini, cuttlefish, salt, pepper and lemon juice into the food processor. Blend until a smooth consistency and set it aside. Take the boiled onion, remaining tahini, roasted peanuts, salt and pepper into the food processor and blend until puree. Spread the chickpea mixture on the plastic wrap with a spatula. Roll the onion mixture in the middle. Then wrap it and let it rest in the fridge for 3 hours. Cut it into slices and take the slices on a serving plate. Sprinkle cinnamon powder and pour olive oil and lemon juice on top and serve them.