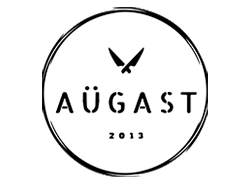 AUGAST
Established to raise awareness on gastronomy, healthy diet and World & Turkish cuisine, the Gastronomy Community of Akdeniz University (AUGAST) keeps informing people who are interested in culinary arts with their events, organizations, conferences and trainings.
APPETIZERS
Here you can see the photos taken during the events that reflect the spirit of the festival:
Appetizers specially prepared by Aügast cuisine within the framework of the festival: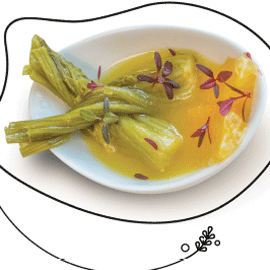 Root Spinach with Satsuma and Olive Oil
Ingredients:
25 Root Spinach / 500 g Satsuma / 500 g Leman / 200 g Mandarin Puree 150 g Stalk Celery / 100 g Chive / 300 g Olive Dil / 50 g Dried Tomatoes 
Directions:
Clean and portion the spinach roots. Wash and cut into brunoise the celery stalks. Roast the celery in olive oil and then add the spinach roots. Squeeze satsuma and lemon juice. Mix the juice with mandarin purée. Add the juice mixture obtained on the spinach.
Cover whole spinach with baking paper. After covering with baking paper, place a weight equally on it. After boiling, decrease the heat of the stove. Take it from the stove before it softens too much. Serve after it cools down.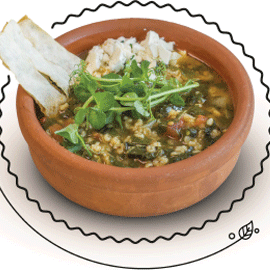 Alafaşı
Ingredients:
2 kg Mallow / 200 g Bulgur / 500 g Tomato / 2 Onions / 40 g Fresh Thyme 100 g Antalya Sogle Cheese / 300 g Leman / 100 g Pomegranate Syrup
30 g Black Cumin / 200 g Phyllos 
Directions:
Wash and chop finely the mallow. Wash and chop finely the onions and tomatoes. After heating the olive oil, roast the onions, and then add bulgur and tomatoes. Add water three fingers higher than the mixture cooked.
After boiling, decrease the heat of the stove. After the bulgur is cooked, take it from the stove. Cut the phyllos into thick slices. Put pomegranate syrup in a container. Brush phyllos with olive oil. Sprinkle black cumin on the phyllos. Keep them in the oven at 180 degree until they dry without fan. Take the dish on a plate when it cools down. Serve it by adding Sogle cheese and phyllo on it.