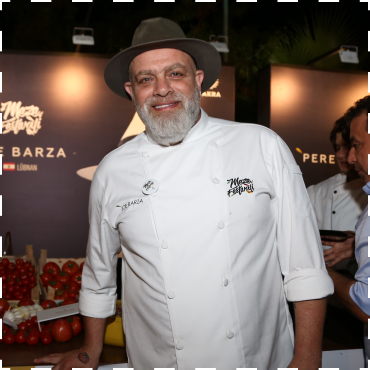 Joe Barza
Joe Barza is a Member of the French Academy of Cuisine and the Head of the Lebanese Chefs' Union. During a career spanning more than 30 years, Barza has contributed enormously to raising the profile of Middle Eastern cuisine. Between 1995 and 2000, he was recognized by Salon Culinaire with silver and gold medals for seafood, Lebanese cuisine and mezes. He also won the Jury Honorary Award at the European Sandwich Combat in 2003. He ranked 9th and 5th in 2003 and 2005, respectively, in the Pastry World Cup. Additionally, he was recognized with the Championship Award at the 2006 World Championship of Tuna contest, held in Sardinia.
THE WORLD'S BEST-LOVED MEZES AT THE 2ND INTERNATIONAL MEZE FESTIVAL
Antalya Hosts World Renowned Chefs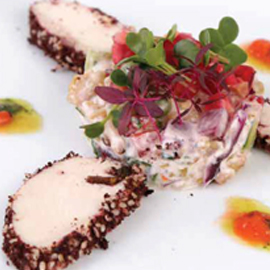 Freekeh Salad
Ingredients:
Freekeh bulgur / Water / Olive oil / Bay Leaf / Rock salt
Salad
1 kg Freekeh / 150 g boiled chickpeas / 100 g boiled carrots / 100 g chopped cucumber / 200 g cherry tomatoes / 100 g peas / 200 g cabbage / 1 bunch of chopped parsley / 1 bunch of / chopped mint / 2 kg chicken breast.
Dressing:
200 ml lemon juice / 100 ml pomegranate syrup / 20 g garlic / 10 g salt / 20 g mustard / 20 g grated lemon peel / 500 g grated raw beets.
Directions:
Boil bulgur, and let it cool. Add chopped and boiled carrot, chickpeas, cucumber, chopped cherry tomatoes, peas, finely chopped cabbage, parsley and mint, and mix them. Mix olive oil, lemon juice and other liquids for the dressing. Add salt, pepper and grated beet. Mix the salad thoroughly. Season the chicken breasts by putting salt and freshly ground black pepper on them, and then roast them in the oven. Slice the chicken breasts crosswise and put salad in the center of the plate and chicken slices around it. Serve it.