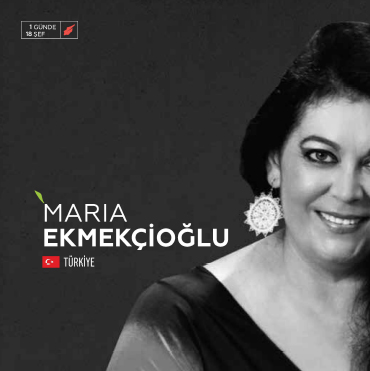 Maria Ekmekcioglu
The roots of Maria Ekmekçioğlu's family tree, which dates back to 1713, go back to her grandfather, who was a baker. Having lived for 13 years in Thessaloniki, where she went to complete her education, Ekmekçioğlu got married and had 3 children. Having managed to own 2 patisseries while raising her children, Ekmekçioğlu did not take a break from her profession. Returning to Istanbul after Greece, Maria Ekmekçioğlu established Maria's Garden in Etiler and restaurants called Maria's in Athens. In addition to being a restaurant chef, Ekmekçioğlu has been presenting the programs "Magicion of Taste" in Turkey and "From Istanbul to Anatolia" on a Greek television channel for the last 5 years. Ekmekçioğlu also works as a lecturer at a private university. She is a member of the Friends of the Kitchen Association, Chaine des Rotisseurs and Chef's Club. Having written books in the field of gastronomy in her career, Ekmekçioğlu's books "Bir O Yaka Bir Bu Yaka" and "Hatıramdaki Mezeler" which she prepared with Gökçen Adar attracted great attention. Ekmekçioğlu has also published two books in Greece.
THE WORLD'S BEST-LOVED MEZES AT THE 2ND INTERNATIONAL MEZE FESTIVAL
Antalya Hosts World Renowned Chefs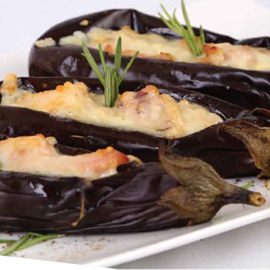 Eggplant with Seafood
Ingredients:
10 eggplants / 150 g shrimp / 150 g squid / 30 g capers  / 100 ml cream / 11 onions / 2 red peppers / 10 cloves of garlic / 1 bunch of rosemary / 100 ml lemon juice 7 20 g salt / 10 g black pepper
Directions:
Make a slit on the eggplants and deep fry them. Cut them Cut them in half lengthwise. Scoop out and chop the flesh. Boil and chop the seafood. Add the beaten garlic, cream, capers, lemon juice, salt and pepper into the eggplant you chopped, and make it into stuffing. Fill the fried eggplants with this stuffing. Garnish and serve them with rosemary.