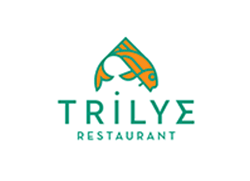 TRILYE
Established in 2002, Trilye Restaurant offers seafood of the highest quality to its guests with an extensive concept. Run by Sureyya Uzmez and his wife Mahmure Uzmez, Trilye Restaurant provides service with its motto "Eat fish for your health, and visit Trilye to eat fish" every day. Granted with various international quality awards, Trilye Restaurant attaches importance to the issue of closed season and calibration of huntable sea fish.
APPETIZERS
Here you can see the photos taken during the events that reflect the spirit of the festival:
Appetizers specially prepared by Trilye cuisine within the framework of the festival:
Octobus Carpaccio
Ingredients:
1 Octobus of 4 kg / 2 Bunches of Rocket  / 1 Cup of Olive Oil / Juice of 2 Lemons / 8 Capers / 12 Pine Nuts / Freshly Ground Black Pepper
Directions:
Roll the tentacles of the raw octopus and then stretch wrap them. Boil in boiled water far 3-4 hours. Then, take the stretch wrap off, and stretch wrap them again, and store them in the freezer. Cut into thin slices in slicing machine. Put the rockets on the service plate. After taking the carpaccios, which have been kept in the dressing with lemon and olive oil, on the plate, put capers and pine nuts over them, and sprinkle black pepper. Enjoy.
Shrimp with Avocado
Ingredients:
1 Avocado / 4 Boiled Shrimps / 1 Cup of Olive Oil / 2 Tablespoons of Mustard 1/2 Teaspoon of Vegetable Seasoning / 1 Coffee Cup of Granulated Sugar / Juice of 1 Lemon / 1/2 Tea Glass of Cider Vinegar
Directions:
Peel the avocado, cut it into four pieces, and remove the pit. Dip the peeled shrimps in 2 tablespoons of olive oil anda small amount of lem on juice. Whisk the remaining olive oil, mustard, vegetable seasoning, sugar, lemon juice and cider vinegar in a bowl by a mixer until a thick consistency. Pour the dressing over the avocado. it is ready to serve after putting the shrimps on the avocados with the dressing. Enjoy.