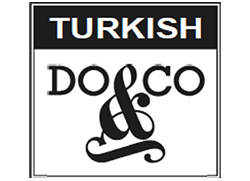 TURKISH DO & CO
Offering the one and only gourmet foods of the aviation industry to its guests globally, Turkish Do&Co has been making a distinguished name for itself with its nine catering cuisines in Turkey since 2007. Providing service in Istanbul, Ankara, Antalya, Izmir, Bodrum, Trabzon, Dalaman and Adana, Turkish Do&Co offers service to more than 60 national and international airline companies with its rich catering cuisines.
APPETIZERS
Here you can see the photos taken during the events that reflect the spirit of the festival:
Appetizers specially prepared by Do&Co cuisine within the framework of the festival: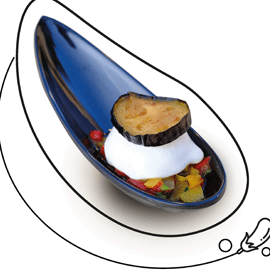 Baba Ganoush Praline
Ingredients:
1 L Milk / 50 g Vegeterian Gelatin Powder / 2 Roasted Eggplants / 2.5 cl Lemon Juice / 25 g Capia Pepper / 25 g Green California Pepper / 25 g Yellow California Pepper / 10 g Parsley / 1.5 g Salt / 10 g Olive Oile
Directions:
Cut the peppers into brunoise. Add olive oil and salt. Cook them in preheated oven at 70 degrees far 2 hours, and add parsley. Season the eggplants with lemon juice, smoked olive oil and salt. Pour them in silicon molds with a diameter of 3cm, and freeze them. Heat the milk and gelatin at 70 degrees. Leave it to cool until 50 degrees, and dip the frozen eggplant salad in the gel to cover it. Put the pepper, then the eggplant salad covered with milk gel and finally a slice of eggplant chips, which has been cut into thin slices and fried, on the spoon to be served.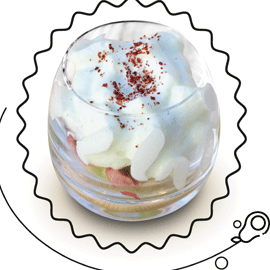 Ayran Mint Espuma
Ingredients:
250 ml Ayran / 5 g Fresh Mint Leaf / 12.5 g Powder Espuma / 2 Avocados / 1 Lime / 40 g Bodrum Scratched Olive / 4 g Sumac / 1.5 g Salt / 1 L Siphon 2 Chargers 
Directions:
Cut the avocados into cubes of I cm, and season them with lime and salt. Cut the olives into small strips. Blend the ayran and mint leaves in blender, and then strain it. Add 25 g espuma in the ayran with mini, and whisk it. Store the lilled iSi siphon in the relrigerator tor hali an hour, with the lirst charger inserted. Add firstly 10 g olive and then 25 g avocado on the glass to be served. lnsert the second charger into isi siphon, and spray 25 g ayran mixture with mint. Sprinkle sumac over it belore serving.