Volkan Bekit & Savaş İrlan
Volkan Bekit & Savaş İrlan
Volkan Bekit was born in Münih, in 1977. From the age of 10, he served in various roles at Bay Nihat Restaurant, opened by his father, Ahmet Nihat Bekit, in 1978. He continues to work in the family business alongside his father and his brother, Mustafa Hakan Bekit.
THE WORLD'S BEST-LOVED MEZES AT THE 2ND INTERNATIONAL MEZE FESTIVAL
Antalya Hosts World Renowned Chefs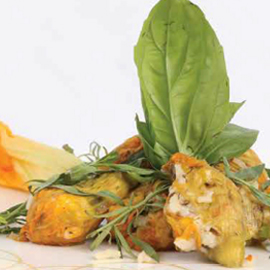 Flower Stuffed with Seafood
Ingredients:
10 squash blossoms / 300 g shrimps / 300 g squids / 100 g onions / 20 g garlic / 400 g blessed thistle / 100 g olive oil / Dill / 10 g salt / 10 g black pepper / 20 g lemon juice
Directions:
Boil the squids, shrimps and blessed thistle. Sauté the seafood with finely chopped onions and garlic. Season with salt, lemon juice and black pepper. After they are cooked, add finely chopped dill and mix. Fill the squash blooms with this stuffing. Finally, pour oil and lemon juice and bake in the steam oven.